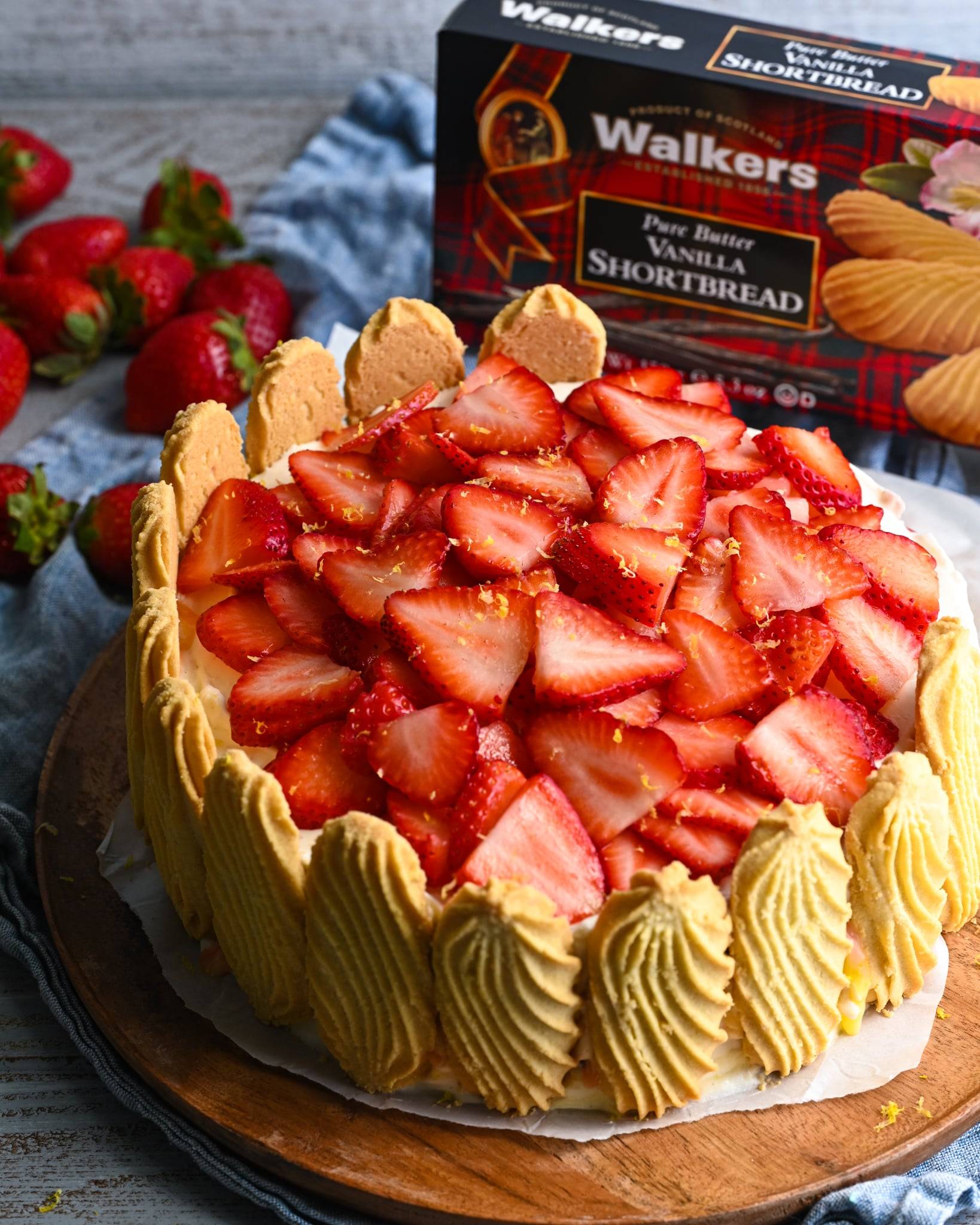 Lemon Strawberry Icebox Cake
Walker's presents a perfect spring or summer treat: Lemon Strawberry Icebox Cake. Baking & Recipe Influencer/Blogger, @buttermilkbysam has curated this layered no-bake dessert with two layers of Walker's Vanilla Shortbread, silky lemon curd, fresh strawberries, three layers of cream cheese whipped cream and a layer of toasted meringue on top. It's the ultimate lemon meringue/strawberry icebox cake mash up. In partnership with @buttermilkbysam
8 or 9" round springform pan
226g or 1 brick cream cheese at room temperature
50g or ½ cup granulated sugar
30g or ¼ cup powdered sugar
2 teaspoons vanilla bean paste
600g or 2 ½ cups heavy whipping cream cold straight from the fridge
1 ¼ cup Lemon Curd (or half of this recipe)
Fresh Strawberries 0.5-1 lbs
3 packages Walker's Vanilla Shortbread Cookies (12 for layers, the rest for garnishing the outside)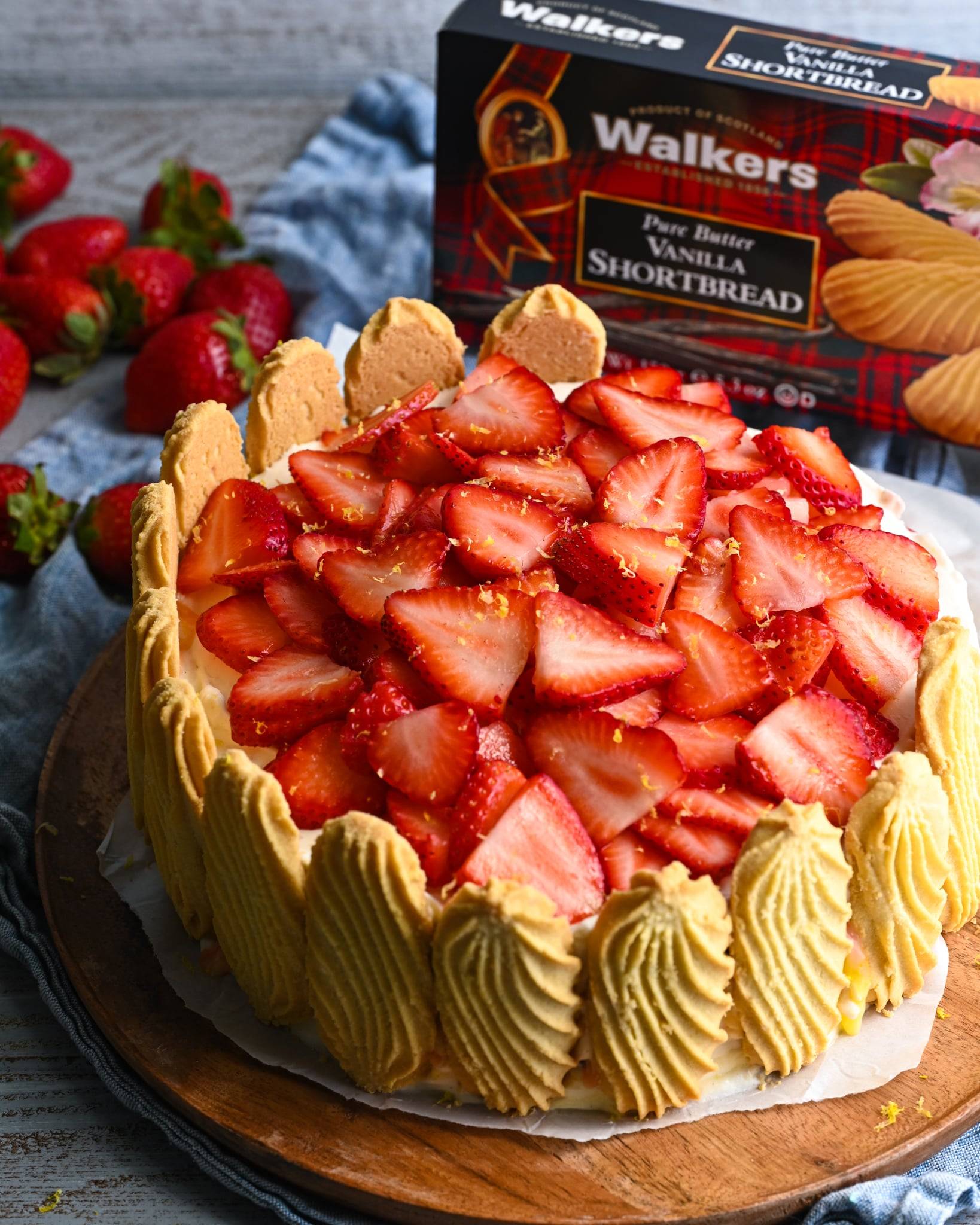 Have your lemon curd made ahead, ready and chilled overnight before beginning.
1-2 hours before beginning, take the cream cheese out of the fridge and leave it on the counter to soften.
Right before beginning, slice strawberries very thin.
Lay a sheet of parchment paper at the bottom of a springform pan and clip the ring around it.
In a food processor place everything except the heavy cream. Process until well blended, about 30 seconds, scraping down as needed.
Pour in the heavy cream, scrape the bowl again and process on high for about 60 seconds, watching as it thickens. Once you can run a finger or spoon through it and it holds shape, it's done.
Spread ⅓ of the whipped cream on the bottom of the pan into an even layer.
Lay six of the shortbread cookies on top, keeping them as close together. It's ok if you need to break some of them to fit in the empty spots.
On top of the cookies spread about ⅓ cup lemon curd.
Layer some sliced strawberries on top of the curd, leaving little space between them and keeping them in one even layer.
Repeat all these steps. The last layer is the last third of the whipped cream.
Set the cake in the fridge for about 4 hours, enough time for the cookies to soften. You can also leave it overnight in the fridge.
Gently press additional Vanilla Shortbread cookies (vertically) around the edge of the entire cake for an impressive garnish.
The day of serving, make the meringue (if using). If you choose not to use a meringue, top the cake with another layer of thinly sliced strawberries for presentation.
Bring a pan filled one third of the way with water to a simmer.
In a heatproof bowl (that will fit nicely on the pan), add the sugar and egg whites. Whisk well then place over the simmering water.
Whisk as it cooks, switching to a rubber spatula to scrape up the edges. Keep stirring as it warms, and the sugar granules dissolve.
Once you can pinch the mix and can't detect any sugar granules, transfer to a stand mixer affixed with the whisk attachment.
Begin whisking on low, then working up to medium (speed 6 on a kitchenaid). As it thickens, add the salt and vanilla. Whisk for about 6 minutes, or until you can turn the whisk upside down and the meringue holds shape.
Spread the meringue on the chilled cake. Use a kitchen torch to toast it all over.
The icebox cake can be served immediately or can sit in the fridge for a few hours (but not overnight as the meringue will separate).