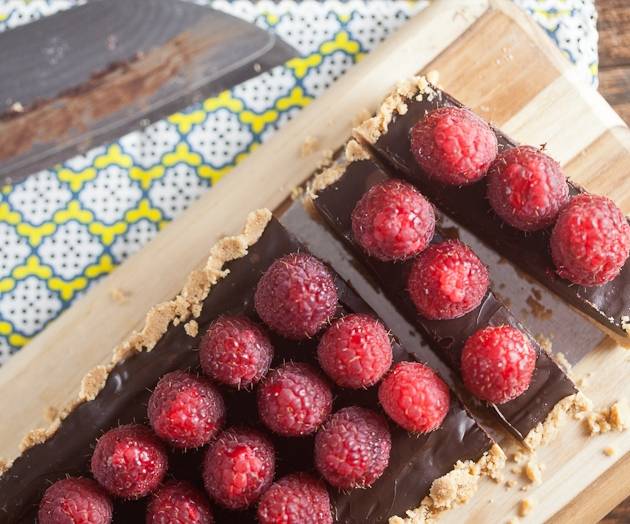 Lavender Dark Chocolate Tart
Delicious, homemade chocolate tart made more awesome with infused lavender and a touch of honey. In partnership with Healthy-Delicious.com.
10 Walker's Vanilla Shortbread cookies
1/2 cup whole white wheat flour
2 Tablespoons coconut oil or butter, softened
2 Tablespoons dried culinary lavender
12 oz. dark chocolate chips
Pulverize the cookies into a fine powder, either in a food processor or by sealing them in a heavy plastic bag and rolling over them with a heavy rolling pin.
Add the cookie crumbs, flour and oil/butter to a mixing bowl; mix well.
Press into a 9-inch tart pan. Bake 20-25 minutes, or until golden brown.
Add the cream, honey and lavender to a saucepan set over medium heat.
Bring to a simmer; reduce heat to low and let the cream steep for 15 minutes.
Pour the chocolate chips into a mixing bowl.
Set a mesh strainer over the bowl; pour the infused cream through the strainer.
Discard the lavender; stir the chocolate and cream until the chocolate is completely melted and smooth.
Pour into the baked tart crust.
Refrigerate 30 minutes, or until chocolate is set.
Remove from pan and top with raspberries.
Serve chilled or at room temperature.