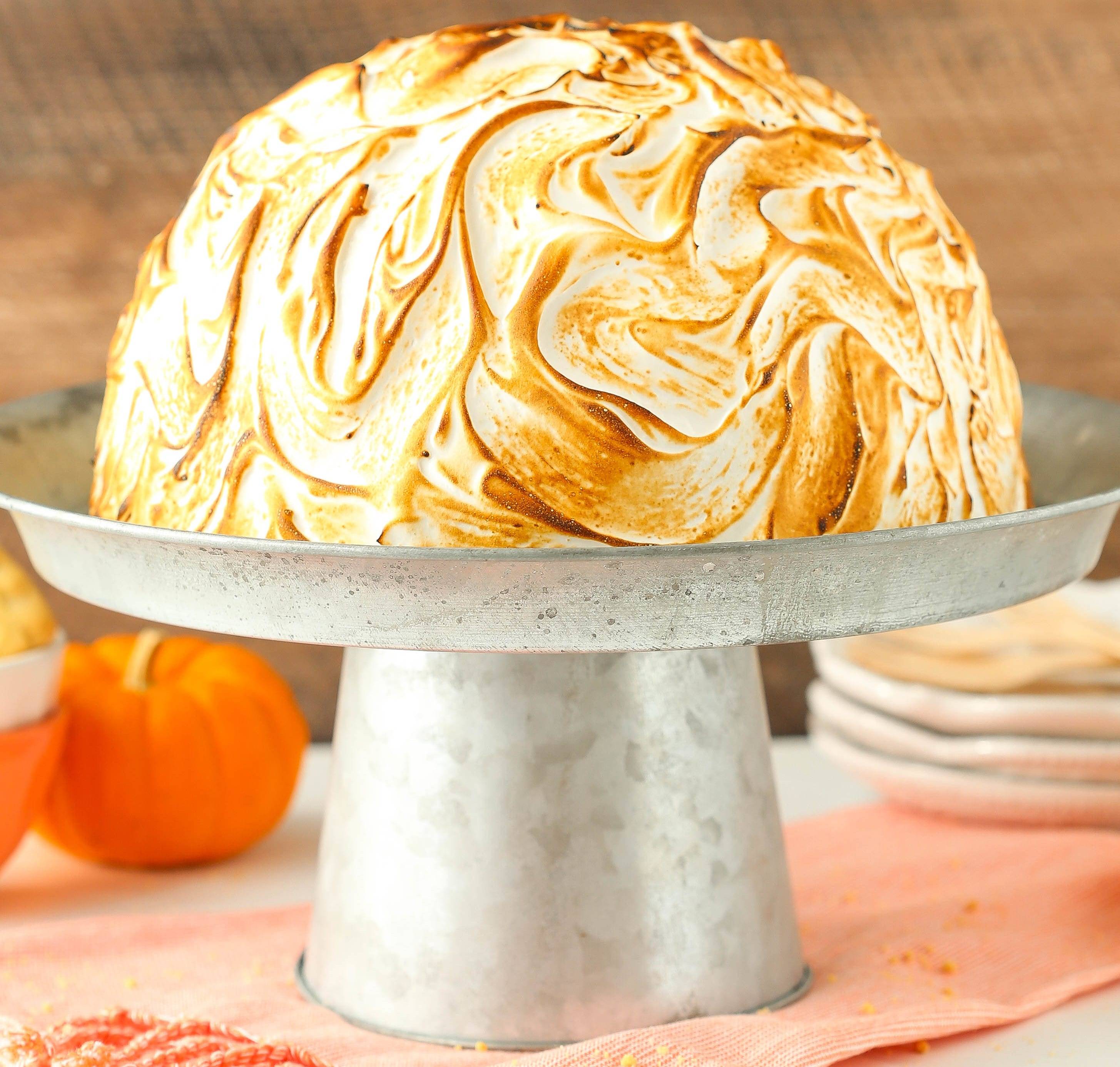 Pumpkin Spice Baked Alaska

Basically an ice cream cake with meringue frosting, Pumpkin Spice Baked Alaska is SO easy to make and perfect for fall! In partnership with Life Love and Sugar.
1 1/4 (291g) cups canned pumpkin puree
2 (14 oz) cans sweetened condensed milk
3 1/2 cups (840ml) heavy whipping cream
1 cup (115g) powdered sugar
2 1/2 (5.3 oz) packages Walker's Shortbread Triangles
To make the ice cream, combine the pumpkin puree, cinnamon, nutmeg, ginger and cloves.
In a separate large bowl, add the sweetened condensed milk and vanilla. Add the pumpkin mixture and combine. Set aside.
Add the heavy whipping cream and powdered sugar to a large mixer bowl fitted with the whisk attachment and whip on high speed until stiff peaks form.
Add the sweetened condensed milk mixture to the whipped cream in two parts, carefully folding them together until well combined. Set aside.
Put the milk into a small bowl.
Line a 3 quart bowl with a layer of clear wrap.
Fill about 1/3 of the bowl with the pumpkin ice cream mixture.
Add a layer of shortbread on top of the pumpkin ice cream, dipping each piece of shortbread into the milk before adding it. Create a full layer.
Top the shortbread with another layer of pumpkin ice cream, followed by another layer of shortbread dipped into the milk.
Add the remaining ice cream and then a final layer of shortbread, dipped into the milk.
Freeze the ice cream and shortbread layers until completely firm and frozen, 7-8 hours or overnight.
Turn the bowl over onto a serving platter and place the cake on the platter. You can use the clear wrap to help you remove it from the bowl. If it has trouble coming out of the bowl, just leave it overturned until it slips out. Set the cake back into the freezer.
To make the meringue, combine the egg whites, sugar and cream of tartar in a metal heatproof mixer bowl. Place the bowl over a saucepan with simmering water.
Whisk constantly until sugar is dissolved and whites are warm, between 120 and 140 degrees, about 3 to 4 minutes. Remove from heat.
Using the whisk attachment, beat on low speed, gradually increasing to high, until stiff, glossy peaks form, 5 to 7 minutes.
Get the cake out of the freezer and fully cover with the meringue. Use the underside of a spoon to create a swirled pattern.
If you have a kitchen torch, use it to toast the meringue. You could also toast it in the oven quickly.
Freeze cake until ready to serve.