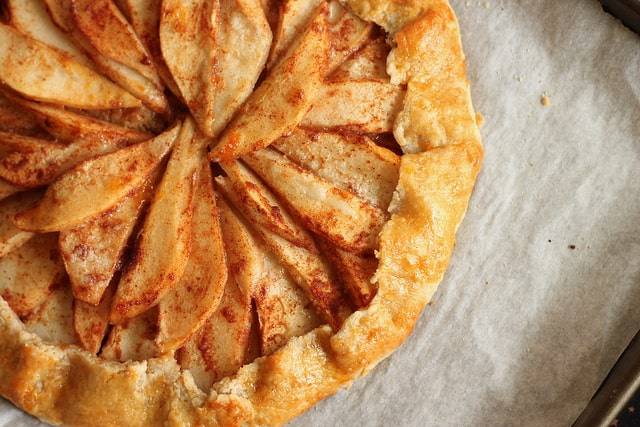 A perfect weeknight dessert, extra weekend treat, or a wonderful addition to your Thanksgiving table. In partnership with Stephie Cooks.
½ cup white whole wheat flour
4 tablespoons unsalted butter, cold and cut into pieces
6 tablespoons very cold water
½ cup Walkers Stem Ginger Cookies crumbs (from about 3 cookies)
1½ tablespoons granulated sugar
½ tablespoon unsalted butter, cut into small pieces
1 tablespoon Bonne Maman apricot preserves
Preheat oven to 350 degrees. Line a baking sheet with parchment paper; set aside.
Make the crust: In a large bowl, whisk together the flours and salt.
Add the butter and shortening and cut into the flour mixture until the mixture resembles coarse meal with a few larger pieces of butter and shortening.
Drizzle the water over the flour mixture; using a fork, combine until mostly mixed. Mixture will still be crumbly.
Turn dough out onto a lightly floured surface. Bring dough together with your hands, then pat into a disk. With a floured rolling pin, roll into an 11-inch circle.
Using a dough blade or knife to gently remove the crust from the table, transfer the dough to the prepared baking sheet. Trim the edges of the circle with a sharp knife.
Place crust in the fridge to chill while you prepare the filling.
Peel, core, and slice the pears. Place in a large bowl with the lemon juice, flour, sugar, cinnamon, and cloves. Toss to coat the pear slices.
Remove the crust from the fridge.
Spread the cookie crumbs onto the crust, leaving a 1½ to 2-inch border around the edge.
Arrange the pear slices on top of the crumbs.
Carefully fold the edges of the crust over the edges of the filling.
In a small bowl, combine the apricot preserves and the water.
Brush the preserve mixture over the edges of the crust.
Dot the top of the pears with the butter.
Bake for 45 minutes, or until the crust is deep golden brown and the pears are soft and bubbling.