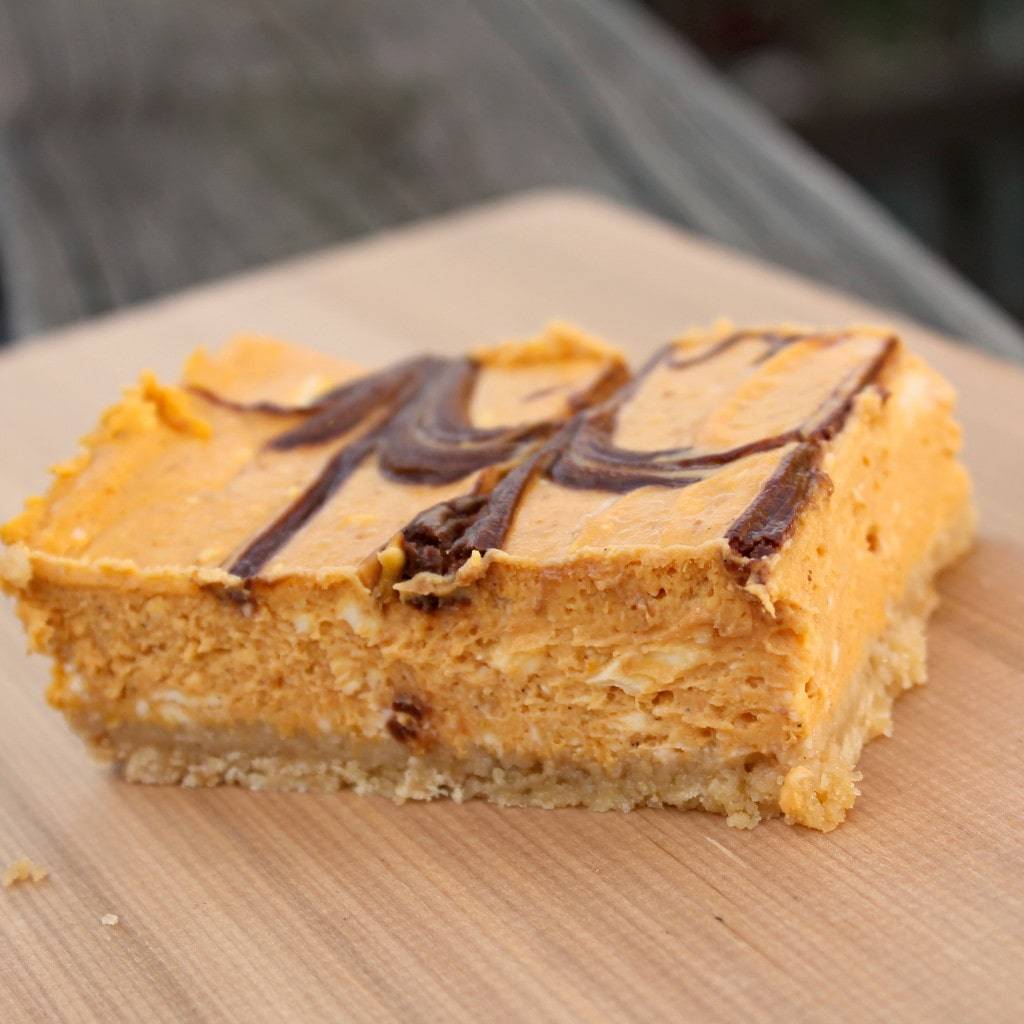 Nutella Swirled Pumpkin Cheesecake Bars

Ginger shortbread crust adds a nice crunch and the ginger flavor enhances the pumpkin flavor of the cheesecake. In partnership with I Can Cook That.
1 7 oz box Walkers Shortbread Shortland Highlanders (9 cookies)
5 Walkers Stem Ginger Shortbread Cookies (~1/2 box)
1/4 cup (4 tablespoons) unsalted butter, melted
2 8 oz packages reduced-fat cream cheese
1 8 oz package regular cream cheese
1 15 oz can pumpkin puree (not pumpkin pie filling)
2 tablespoons all purpose flour
1/4 teaspoon each of ground ginger, nutmeg, cinnamon and cardamom
3/4 teaspoon vanilla bean paste (or vanilla extract)
Begin by making the crust. Pulse the Highlanders and Stem Ginger Shortbread in a food processor until crumbs form. (If you do not have a food processor, you can add the shortbread to a ziplock bag and use a rolling pin to make the crumbs).
Combine the crumbs and ¼ cup sugar in a small bowl.
Melt the butter in the microwave or on the stove over low heat. Stir in the butter.
Add the crumb mixture to a 13-in x 9-in baking pan that has been lined with parchment paper. (If you don't have parchment paper, spray with cooking spray before adding the crumb mixture).
Press the mixture down firmly and evenly (I used a measuring cup to do so).
Refrigerate for at least 15 minutes.
Preheat your oven to 325 degrees.
Add the cream cheeses and remaining ¾ cup sugar to a large bowl.
Add the pumpkin, flour, spices, and vanilla. Beat on low until combined.
Add the eggs. Beat on low until just combined.
Pour over crust and smooth.
Warm the ¼ cup Nutella in the microwave for 30 seconds. This will help make it a little easier to work with.
Add random teaspoon sized drops of Nutella to the top of the cheesecake. Use a knife to swirl.
Bake at 325 degrees for 35-45 minutes (I baked mine for 40), or until the center is almost set. Cool on a wire rack for 1 hour.
Cover with plastic wrap and refrigerate for 8 hours or overnight.
Use a knife to loosen the edges of the cheesecake. Lift the parchment paper up and remove the cheesecake.
Cut the cheesecake into bars (I got 15 bars out of it, but depending on the size you cut them you could probably get up to 20).