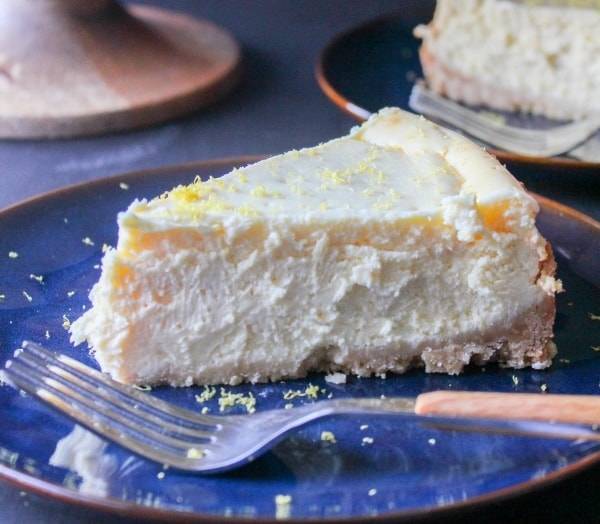 It's light, creamy, super citrusy, and just downright delicious. In partnership with Chef Next Door Blog.
2 cups Walker's Pure Butter Shortbread Fingers crumbs (from about 14 cookies)
6 Tablespoons unsalted butter, melted
4 - 8 ounce packages low fat cream cheese, at room temperature
1/2 cup heavy whipping cream
1/4 cup fresh lemon juice
2 Tablespoons all-purpose flour
2 Tablespoons fresh lemon zest
2 teaspoons pure vanilla extract
Preheat the oven to 325 degrees.
In a small bowl, mix together the shortbread crumbs and butter.
Press onto the bottom and up the sides of a greased 10-inch springform pan.
Place the pan on a baking sheet and bake for 10 minutes.
Set the pan aside on a wire rack to cool slightly while preparing the filling.
In the bowl of a stand mixer, beat the cream cheese and sugar until smooth.
Add in the cream, lemon juice, flour, lemon zest, and extracts and mix well.
Add the eggs all at once and beat on low speed until combined.
Pour the filling into the crust and place the pan back on the baking sheet.
Bake the cheesecake for 50-60 minutes, or until the center is almost set.
Cool on a wire rack for 10 minutes, then gently run a knife around the edge of the pan to loosen the cheesecake. Continue to cool completely, then refrigerate overnight.
Remove the sides of pan, slice and serve.