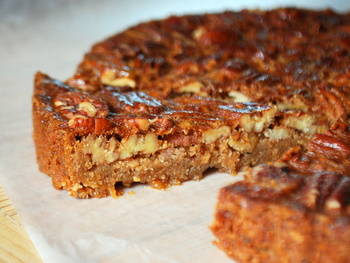 1 1/3 cups Walker's Shortbread crumbs
6 tbsp butter, melted and cooled
2 cups roasted, salted pecan halves
Shortbread Crumb Crust: Preheat oven to 350F.
Combine ingredients and stir well until mixture resembles wet sand.
Pour into 9" tart pan and press into a firm, even layer over the base and sides. Make sure to press the crumbs firmly up into the ridges of the tart pan.
Bake for 10-12 minutes, until browned. Cool completely before using. Makes 1 crust.
Honey Pecan Tart: Preheat oven to 375F.
Spread roasted, salted pecan halves in an even layer in the prebaked tart shell.
In a medium bowl, whisk together sugar, honey, eggs and melted butter until very smooth.
Add in flour and vanilla and whisk until well combined. Pour over pecans.
Bake for 40-45 minutes, or until tart is set, and dark golden brown. Cool completely before slicing.