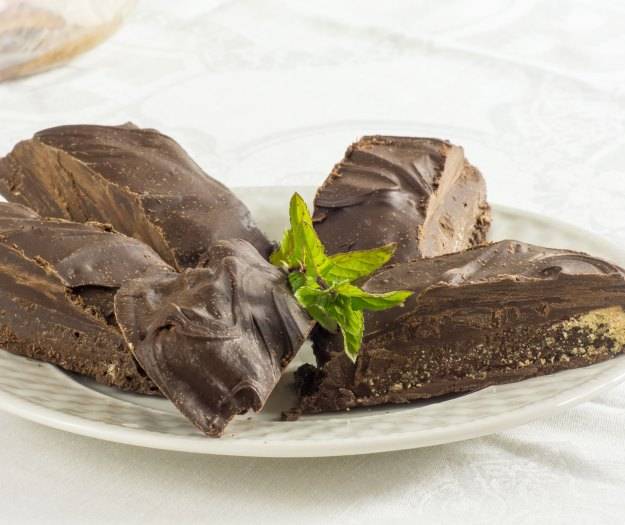 Yummy alternative to a store bought candy bar! In partnership with The Daily Tea.
10 dates, pitted and cut into quarters
12 oz. bag of semi-sweet chocolate chips
1 5.3 oz. box of Walker's Shortbread Fingers
Blend dates in a food processor until completely blended. (Dates will make a ball.)
While blender is running, pour honey in through the opening at the top of the food processor. Scrape the sides and break up the date ball as needed until the honey is completely blended into the dates.
Spread the honey and date mixture on top of each of the Walkers Shortbread Fingers.
Melt the chocolate chips in a double boiler, stirring to create a smooth consistency.
On a flexible, non-stick surface (like a Teflex sheet) spread a layer of melted chocolate (about 1/2" thick) in a rectangular shape that's slightly wider than the shortbreads.
Place the shortbreads covered with the honey-date mixture onto the chocolate. Space them far enough apart so the chocolate can fall between the shortbreads.
Pour the remaining chocolate over and around the shortbreads. Make sure all sides are covered. Cool.
Separate the bars after they have cooled completely by cutting the chocolate between them with a sharp knife.
Serve immediately or store in the refrigerator.