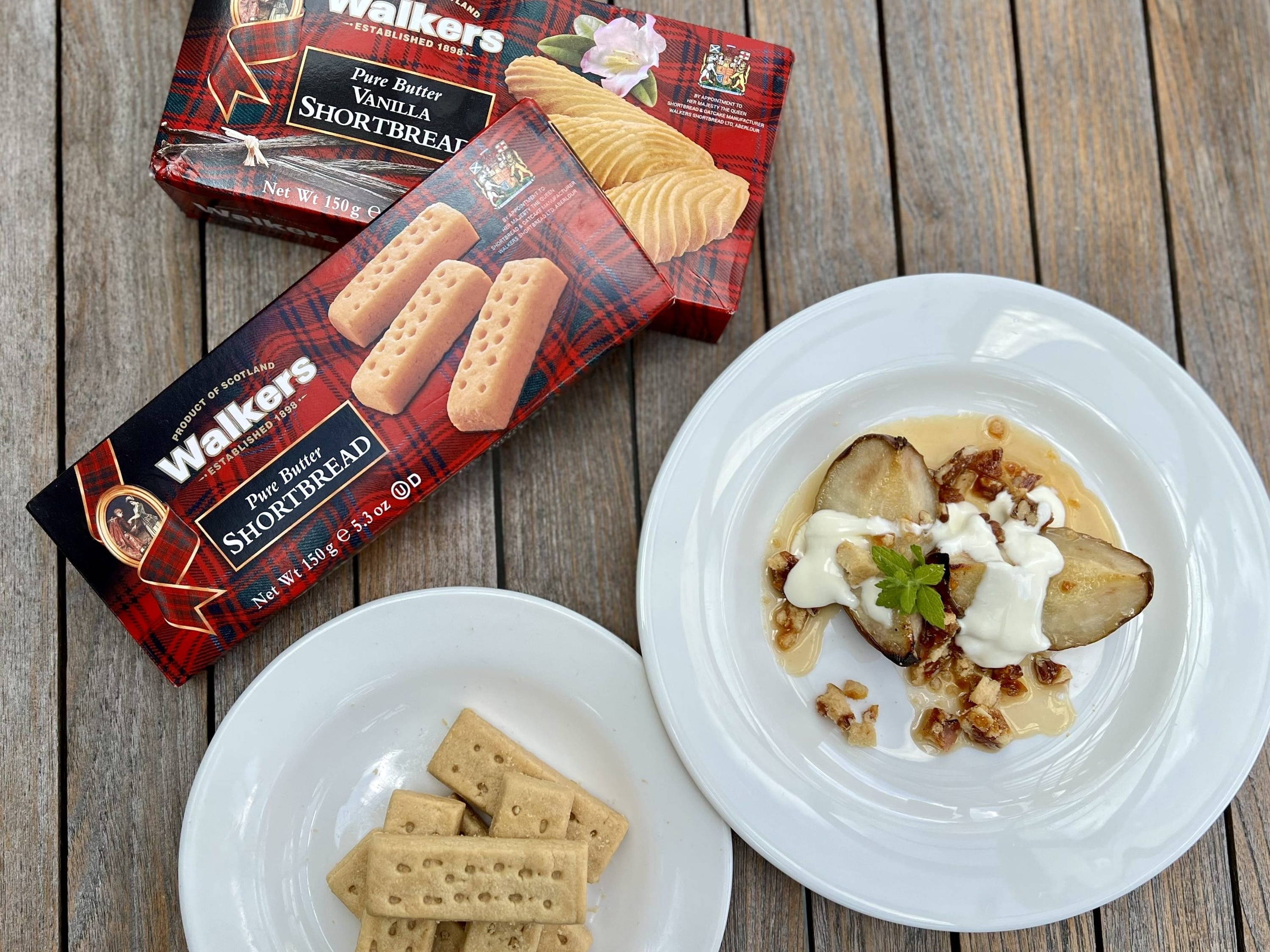 Glazed Roasted Pears with Creme Fraiche and Shortbread Pecan Praline

Everything's coming up Roasted Pears with Shortbread and Praline Topping. This elegant dish created by Sara Moulton of Sara's Weeknight Meals is made with Walker's Shortbread is sure to delight your holiday guests.
2/3 cup chopped (cut into about 1/3-inch pieces) Walker's Shortbread cookies
3 tablespoons coarsely chopped toasted pecans
1 tablespoon melted unsalted butter
2 tablespoons plus 1 teaspoon sugar
2 tablespoons fresh lemon juice, divided
2 Bosc or Anjou pears, cored and quartered lengthwise, leaving the skin on (Bosc and Anjou pears will hold their shape, please don't use another variety of pear)
1/3 cup crème fraiche, sour cream or whipped cream
Preheat the oven to 450 F.
On a lightly oiled rimmed sheet pan, spread the chopped cookies in one layer and sprinkle the pecans evenly on top of the cookies.
Pour the sugar into a medium skillet (about 7-inches across the bottom), making sure the sugar is evenly distributed and cook it over medium heat, without stirring until most of the sugar has dissolved, become transparent and is starting to turn golden.
At that point, stir the sugar with a heat proof spatula until it has all become liquid and turned a medium brown caramel color. Do not let the liquid get too dark or it will taste bitter.
Very carefully pour the caramel (be careful, the caramel is very hot) as evenly as possible over the cookie pecan mixture on the sheet pan.
Let the mixture cool completely until it is very hard and then chop it into ½-inch pieces.
Brush the bottom of a pie tin with the butter, sprinkle 2 tablespoons of the sugar evenly over the bottom and arrange the pears quarters curved side down on top of the sugar.
Brush the quarters generously with some of the lemon juice and sprinkle the remaining sugar evenly over the tops.
Roast the pears on a shelf in the top third of the oven for 10 minutes.
Remove the pie tin from the oven and add 1/3 cup water, the salt and the remaining lemon juice to the bottom of the pan.
Roast the pears, basting them several times with the liquid accumulated in the pan, until the pears are very tender when pierced with a knife about 30 to 40 minutes.
Transfer the pears to a plate, cover them with foil to keep warm and reserve the liquid left in the pie tin. If the liquid is watery, transfer it from the pie tin into a small saucepan and boil it until it is syrupy.
To serve: arrange 2 pear quarters on each of four plates. Spoon the syrup over them, top with a spoonful of crème fraiche and generous sprinkling of the praline.